The humble ironing board often goes unnoticed, yet it is an irreplaceable workhorse in our sewing rooms. I know that some quilters have made investments in their ironing surfaces with Big Boards, custom designed surfaces, and the like, but I have been content with the basic hardware-store variety. My idea of an upgrade was an iron rest and cord minder!
Even the standard ironing board cover seemed to do an adequate job. I viewed it as a design element in my sewing space, carefully choosing a fabric cover that coordinated with the studio color scheme. (Of course I did!) My only complaint would have been its tendency to burn and turn brown over time, making it rather unattractive looking and in need of frequent replacement.
So, when I encountered a booth at a quilt show that featured an ironing board cover guaranteed never to burn, I was intrigued. Imagine: a pristine white ironing board cover that could last ten times longer than a standard Teflon or cotton cover. The Miracle Ironing Board Cover sounded good to me and I ordered one. Here's what they had to say about their product:
"This Miracle Ironing Board Cover is woven with Owens-Corning Fiberglass yarn and is guaranteed never to burn. It is a weave used for fire fighters, race car drivers and astronaut's protective clothing. It reflects approximately 95% of the heat placed on it, making it possible to with a MEDIUM heat setting (either steam or dry) to iron all fabric-linen, cotton, silk, wool and synthetics. Used correctly, it will give you a long life of trouble free, time saving ironing. It will save energy and prolong the life of your garments."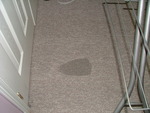 Here is what they didn't say. The heat reflection is so great, you will burn your fingers while pressing patchwork or double-fold binding. And the beautiful clean surface is extremely slippery! Yardage and quilt tops will slide right off the ironing board; smaller pieces will shift under the iron, but holding onto them means more seared fingertips. I finally gave up on my Miracle Ironing Board Cover the day I was pressing my to-be-award-winning quilt top and it started to slide off. Given the choice of what to save, I opted for the quilt and have the burn mark in my carpet to prove it!
I went back to my standard old cover, brown spots and all. But then I noticed an advertisement for another ironing board cover called The Steady Betty. Their claim to "a unique, high quality pressing surface that holds fabric down with little to no movement for a perfect press" now sounded like a pretty great idea! To ensure a perfect fit, they actually requested that I send a freezer paper template of my ironing board surface. I did so, sent in my order, received my Steady Betty ironing board cover, and forgot all about it for a few months – until it was time to press some yardage.
The Steady Betty pressing surface is grey and has a cushy texture like a foam paint roller. I installed my custom fit cover, washed and dried my new fabrics, and headed to the ironing board. I was im-pressed! The fabric truly did not slip – not even the longer and heavier two yard lengths. I did find it worked better to start at the bottom of the yardage and pull the fabric towards me as it was a bit difficult to lift and push the fabric away from myself as I used to.
I liked it so much, I ordered another one this summer for my ironing board at the cottage! Standard ironing board covers up to 53″ long are $48.95 plus shipping or your can order a custom size up to 24″ x 60″ for $59.95. I met Kathy Purdy from The Steady Betty in Houston last year and look forward to seeing her again this year. I know she would love to hear from you and help you find the perfect pressing surface that works for you.